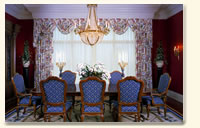 Ravan was founded in 1986. For 23 years, Ravan, has served the design trade as one of the most reliable sources of custom window treatments in the southeast.
Richard Ravan opened his first showroom in Atlanta at the Atlanta Decorative Arts Center (ADAC). He introduced a convenient specialized showroom where the designer could bring their clientele and be available to show and select from the wide variety of designs and products. We serve a customer base that now stretches from the entire southeast, as well as the Caribbean.
We've been privileged to work with thousands of designers and customers who have been an important part of Ravan's vibrant history and will be an even bigger part of our future. We thank you for your continued loyalty.